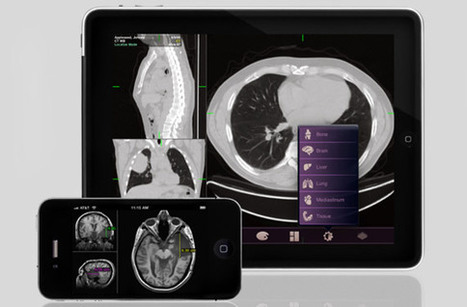 Mobile devices are uniquely positioned to make a significant contribution to medical imaging. Portability, computing power, accessibility and built in internet connectivity are well described advantages of mobile devices. There is a growing body of research which supports the use of mHealth technologies for imaging, and a number of novel uses are described in the literature.
The role of mobile devices in medical imaging has broaden to encompass a broad range of functions including diagnostic purposes, facilitating triage of emergent conditions, improving communication between health care providers to expedite patient care, and providing a feasible system for patient follow-up and self monitoring. The ever increasing capabilities of mobile technologies have also enabled their purpose to expand beyond simply an image capturing tool. This has been reflected in a spectrum of basic sciences, medical and surgical specialties, and public health that are using the imaging capabilities of mHealth to improve access and delivery of patient care.
One of the more novel fields of mHealth emergence is in its role as a diagnostic instrument in the laboratory. Traditionally, laboratory tasks such as microscopy, fluorescent imaging, and enzyme-linked immunosorbent assays (ELISA) require sophisticated and expensive equipment. In this context, the use of mobile technology has been explored as a viable adjunct for laboratory imaging to perform calorimetric analysis of fluid to detect biomarkers of ovarian cancer, microscopy to detect giardia lamblia,and optofluidic assessment for rapidly performing cell counts of body fluid samples.
The use of mobile devices for medical imaging is rapidly growing, with many traditional imaging techniques being challenged. With increasing image quality, and software designed to take advantage of the computational power of smartphones, combined with rapidly declining costs, mHealth imaging has the potential to change the future of medical image capture.