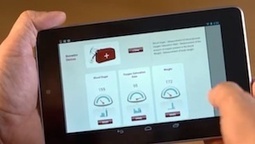 Verizon Wireless announced the launch of its Converged Health Management system, which was cleared by the FDA in August. The Converged Health Management system consists of a wirelessly connected home health monitoring hub.
The remote monitoring hub will take in data on blood pressure, oxygen saturation levels, glucose levels, and weight from various connected devices. The Verizon system will connect with Ideal Life devices. It will transmit that data wirelessly to a HIPAA-compliant Verizon server on the cloud. There, the patient's data can be accessed by the patient's clinician, insurer, or employer who can analyze that information and use it to intervene in the recovery process if necessary.
Verizon will also provide an app and a web portal, branded in connection with customer, on which patients can access their information. The app or portal can also be customizable to include a gamified rewards system designed to help patients make healthier choices. Additionally, the app and web portal can allow patients access to an anonymized social network.
Original : http://mobihealthnews.com/26681/verizon-launches-its-home-health-platform-with-ehr-support-gamification/