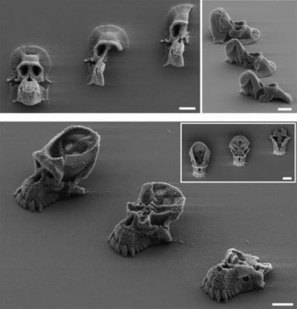 Bacteria in the human body thrive in 3D structured communities, so studying pathogens in this type of environment could better show how they interact. Now, scientists are doing just that - with microscopic 3D printed cages.
Scientists from the University of Texas at Austin have used a new 3D printing technology, which allowed them to construct homes for the bacteria at a micro level.
By encasing bacteria in these tiny homes, they were able to study how bacteria found in the human gut and lungs collaborate to develop infections.
A study of their work was published in the journal Proceedings of the National Academy of Sciences.
To construct the cages, which are made of protein, the researchers used a laser and built the cages around bacteria in gelatin. The cages can be almost any shape or size, say the researchers, and they can be moved around other cages that contain other bacteria communities.
In an experiment, they were able to show how a community of bacteria that causes skin infections, Staphylococcus aureus, became more antibiotic-resistant when it was in a cage with a community of another bacteria involved in cystic fibrosis,Pseudomonas aeruginosa.
The researchers say this new method they employed should allow future studies to recreate better conditions - more like the human body - in which bacteria thrive.