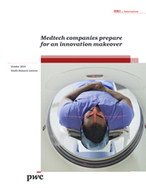 Health IT companies need to focus on innovation in order to create new services and business models, according to a new report from PricewaterhouseCoopers' Health Research Institute
Researchers found that only 14% of medical technology executives have formally managed innovation activities. Meanwhile, 17% of such respondents said they believe their companies are "innovation pioneers,"
The report also found that:
At least 18 new companies are driving innovation in the health IT sector;
A device's value is now measured by the company's ability to help customers solve broader problems;
Integrated services and business models are becoming more important;
Health care technology companies have been slower than other businesses to use new social, mobile, analytic and cloud technologies; and
Such companies are relying on open innovation to drive future growth.
The report found that while health care technology executives lack formal processes to achieve greater innovation, they expect a higher level of innovation over the next three years.
sources:
http://www.pwc.com/us/en/health-industries/medical-technology-innovation/key-findings.jhtml
http://www.ihealthbeat.org/articles/2013/10/7/health-it-companies-should-focus-on-innovation-report-finds