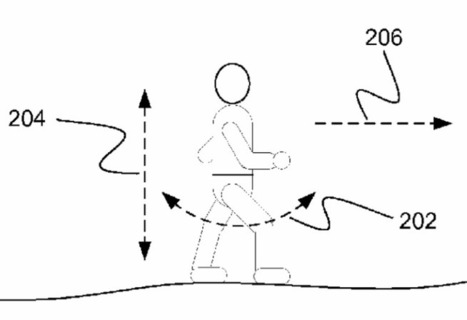 A newly published Apple patent application that details ways to improve a wrist-based pedometer could represent another piece of evidence pointing to an iWatch.
The application, "Wrist Pedometer Step Detection," came out of the U.S. Patent and Trademark Office today. This is part of the standard patent process toward issuance. It details ways to improve step detection when someone is wearing a pedometer on a wrist.
In the patent application's implementation, the pedometer might be able to "automatically determine that the pedometer is being worn on a user's wrist."
Pedometers, the application points out, are often attached to a user's trunk – on the waist or pants or shirt pocket. A commonly used algorithm to measures steps, however, doesn't work as well when the pedometer is on a wrist, because the arm's movement can interfere with the measurement of acceleration.
Apple's patent application would overcome this by filtering the measured movement or inferring steps from previous measurements, leading to more accurate step counts and distance estimation. Additionally, the document notes, "users do not have to specify where the pedometer is being worn" because the software will compensate.