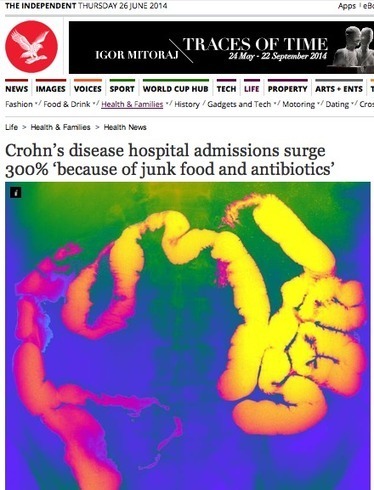 You may have seen recent reports of a 300% increase in Crohn's disease, such as this article in the Independent:
http://www.independent.co.uk/life-style/health-and-families/health-news/crohns-disease-hospital-admissions-surge-300-because-of-junk-food-and-antibiotics-9548524.html
Possible explanations for the rising trend include the use of antibiotics and the availability of junk food; but corresponding evidence for these contentions are thin and do not correlate well to the time-scale of ten years.
What fits better, in fact, is our increased exposure to RF/microwaves emissions, such as those from mobile phones and WiFi, which have increased dramatically over the last ten years. The likely mechanisms for harm are electromagnetically-induced inflammation, as experts such as Professor Olle Johnasson of Sweden's Karolinska Institute have pointed out ...