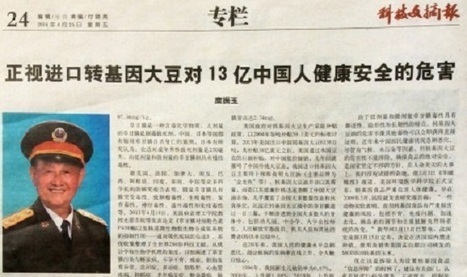 The Chinese 'Science & Technology Abstracts Newspaper' under the leadership of China's State Science & Technology Ministry has published a paper that may deeply damage the Biotech industry worldwide.
The published paper titled 'Must face up to the harm caused by imported GM soybeans to the health of 1.3 billion Chinese people' was written by Lieutenant General Mi Zhenyu, Vice President of the Academy of Military Science of China.
China is currently the largest importer of Roundup Ready Soybeans from the U.S. and Brazil and the main export market for GM soybean farmers in all GM soybean producing countries.