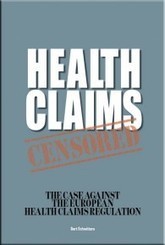 The EU Nutrition and Health Claims Regulation attempts to harmonise the use of health claims or what may be said about the health effects of foods.
Randomised controlled trials, the kind of research used to assess the effects of pharmaceutical medicines, are regarded as indispensable for the approval such claims.
Accordingly, the European legislature has standardised scientific inquiry into nutrition and health claims. This flawed and counter-productive approach hinges on the serious mistake. The uncertainty inherent in the scientific quest for knowledge and insight is put in the same category as misleading information.
Clinical trials do not answer the question of how or why something works but since clinical trials are the way to assess claims, policymakers and regulators can take a free ride with respect to trial outcomes (positive or negative), while literally nobody may or must know why those outcomes are what they are.
Ironically then, the possibilities to know whether the Nutritional Health Claims Regulation itself is a workable piece of legislation is undermined by its very structure and terms of reference.

At its core, the regulation unhesitatingly proliferates ignorance.