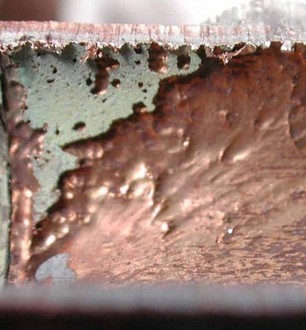 Chlorination is required for safety of drinking water. However chlorine compounds corrode lead containing brass, and will increase lead concentrations from 100 ppb to 200 ppb in drinking water.
A 2005 California symposium pointed to copper pipe failure caused by the use of chloramines used in California water systems to extend the disinfecting power of chlorine. Chloramines aggressively leach copper and other metals from whatever it touches.
So how does fluoride fit in? Tacoma had to close down fluoridation in its system in 1992. Fluoridated water had eaten away metallic copper from its pipes, exposing lead in fittings. Lead levels soared.
When fluoridation was stopped, lead fell, only to rise again when fluoride was restarted. Fluorsilicic acid caused lead levels to spike to over 900 ppb. Fluoride's addition creates ammonium fluosilicate, an established solvent for metallic copper alloys.