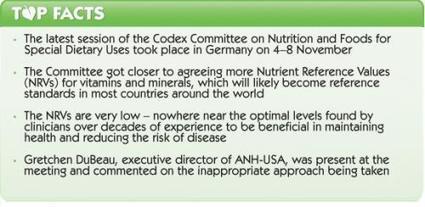 Whatever is agreed in these Codex meetings is increasingly set to become the template for how governments around the world regulate and manage the nutrition of their populations. Unless, of course, it can ever be established that what they're doing is bad science or a comprehensive and deliberate plan to stop people from managing their own health better ...
The Nutrient Reference Values that Codex has come up with are laughable when seen through the lens of what we know from functional and integrative medicine.
A huge amount has been learned over the last 30 or so years about what is required to keep a human being healthy for longer, especially one suffering oxidative stress and inflammation, the states that underpin all the major chronic diseases. Yet this information is firmly locked out of Codex proceedings.
The Codex committees, made up of government bureaucrats instead of clinicians or researchers, try to fathom what their governments and industrial players can live with, not what the people need...

(Click on headline to read the whole article)