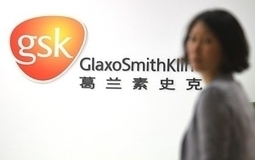 First, Chinese authorities announced they were investigatingGlaxoSmithKline and other pharma companies for bribing doctors, hospitals and government officials to buy and prescribe their drugs. Glaxo is accused of using a Shanghai travel agency to funnel at least $489 million in bribes.
Then the New York Times revealed last week the alarming news that aninternal Glaxo audit found serious problems with the way research was conducted at the company's Shanghai research and development center.
Glaxo is a leader in pharma fraud and wrongdoing, with other industry heavyweights close behind. Over the past decade, whistleblowers and government investigations in the US have exposed a never-ending series of problems by numerous pharma companies in all facets of the industry, starting with fraudulent "research" papers used to bolster marketing and continuing through to the manufacture of contaminated and defective products, the marketing of drugs for unapproved and life-threatening uses and the mispricing of prescription drugs.
Big pharma's woes in China underscore that the industry – despite huge penalties and a long string of public mea culpas – has a fraud habit that is just too profitable to kick. Finding a cure should be a top priority of regulators worldwide.