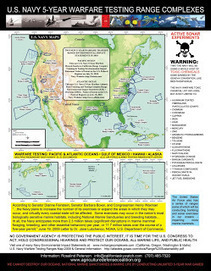 "Anthropogenic noise activities off West African Coast, includes seismic surveys and naval exercises (rockets, hazardous operations, etc). Ghana reports increase in dead whales washing ashore coinciding with extensive oil exploration activities in this area."
"Stranded whales are not soulless blobs of fat, they are individuals and they often have
families and friends waiting desperately for them near by only to never see them again
because lousy rescues refuse to help and kill them."
"On King Island, Tasmania in November 2012 a several day, multi-species stranding event occurred simultaneously with the testing of a new torpedo in the same basic area. The strandings began within approximately 24 hours of the weapons tests."
"The source level of this sonar is 240 decibels (equivalent to the intensity of a Saturn rocket). But, because low frequency underwater sound can travel hundreds of miles with little loss of power, it will actually create a 'kill zone' several hundred miles in diameter. NATO naval exercises using low frequency sonar conducted off Greece in 1996 killed whales that were more than 100 km away."