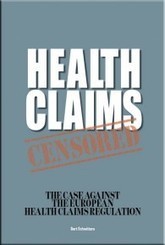 The European 'Health Claims Regulation', which prohibits giving any health related information about food products and food supplements, is a 'precautionary' measure.

Ostensibly, the regulation is to protect consumers from false and misleading information, but in practice it protects consumers from ANY information about how healthy a food might be, unless that informaton has been studied and re-studied and evaluated and found to have convinced scientists so they were all able to form a 'consensus'.

Such a consensus is quite rare and therefore, all of the most recent information, even if confirmed by one or more studies, is withheld from the public because 'health claims', in Europe, are thought to be misleading unless they are proven by a decade-long process of forming the ever elusive scientific consensus.

As Bert Schwitters, the author of a book about the health claims directive, points out in this blog post, what is thought to be a precautionary measure, is actually misleading consumers by FORCEFULLY WITHHOLDING (or prohibiting) important information about foods and health.
A comment by Bert Schwitters:

"The key thing is that law is replaced by science. It's easier for politics to "lay its hands on science" than to "lay it on law." At EFSA they now believe that their business is protecting consumers against misleading information. Many scientists now feel the same way. The Claims Regulation pulls scientists into consumer protection. But that's something that goes far beyond their mission and competence."