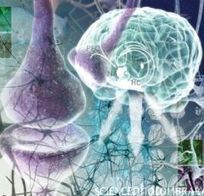 A new study out of the University of California-Los Angeles shows that a high-fructose diet sabotages learning and memory in rats. The study, published in the Journal of Physiology, also shows how omega-3 fatty acids can counteract that sabotage.
"Our findings illustrate that what you eat affects how you think," said Dr. Fernando Gomez-Pinilla, a professor of neurosurgery at the David Geffen School of Medicine at UCLA and a professor of integrative biology and physiology in the UCLA College of Letters and Science. "Eating a high-fructose diet over the long term alters your brain's ability to learn and remember information. But adding omega-3 fatty acids to your meals can help minimize the damage."
"We're not talking about naturally occurring fructose in fruits, which also contain important antioxidants," said Gomez-Pinilla. "We're concerned about high-fructose corn syrup that is added to manufactured food products as a sweetener and preservative."
My comment:
It's good to know that the damage to cognitive ability can be limited by abundantly supplying a brain nutrient... but what about just eliminating the problem at the source - by making that sweet tooth less acute?