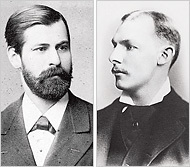 "An absorbing account of how cocaine affected the careers of Sigmund Freud and the pathbreaking American surgeon William Halsted."
For a CNN report on the cultural history of cocaine, also check out: http://tinyurl.com/3cxxucx (includes video)
I doubt Freud's substance (ab)use might have possibly left any significant impression on his theories: almost all of his widely-acknowledged works were written years after he had quit cocaine altogether (1896). Besides Freud is known to have denounced, in retrospect, his interest in cocaine and did not visit its medicinal qualities in writings post-1896. Nevertheless, his paper 'Über Coca' and Howard Markel's book 'An Anatomy of Addiction' (which deals with those more personal aspects of Freud's use), are both intriguing reads: What new insights does a physician obtain from self-experimenting with a potentially dangerous substance? How does he/she incorporate those insights to current theory and practice in order to restore health either by administration of cocaine or in its absence, after an episode of abuse? In other words, the timeless conundrum of the pharmakon and the medical appropriation of the boundaries between the tonic and the toxic, the normal and the pathological.
The second medical figure of Markel's book on cocaine addiction is William S. Halsted, the highly successful surgeon remembered today as one of the founding staff of Johns Hopkins Hospital. But not only is Halsted's sense and use of cocaine remarkably different from Freud's, his story inspires a different set of questions as well: is the highly-functioning addict a rarity because of the chemical properties of substances and the gloomy psychology of addiction? Or do we need to broaden our medical perspective to define forms of 'substance use' other than abuse and dependency, to allocate new spaces of meaning and value for the medicinal use of organic or synthetic material? Could (the restoration of) health be about the ability to set (new) normativities proper to one's ever-changing interactions with the biological and cultural surroundings, rather than complying to rigid categories of norms and functions imposed over the diversity of individuals, metabolisms, experiences?
Are there not innumerable healths, even to a single body?