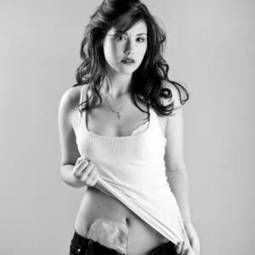 Last week, a woman's holiday photo went viral as she revealed her colostomy bag as she posed in her bikini.
And fellow Crohn's sufferer Jessica Grossman is adopting the same body confidence tacti through her popular blopg.
Jessica, from Ontario in Canada, was diagnosed with Crohn's disease when she was eight years old.
Now 24, she has been a trailblazing campaigner for women with ostomies, inspiring them to embrace their 'second chance at life' through her initiative Uncover Ostomy.
Jessica's childhood was spent in and out of hospital, with overpowering medications and extreme diets as she battled the illness.
"Eventually, I turned 13 and found myself still extremely sick, in an immense amount of pain, and not getting any better. I was weak, I was tired, and I was isolated in a hospital bed," she told Independent.ie.
A surgeon told her that if she did not undergo an operation to have her colon removed, she would die.
This was the first time Jessica heard the word 'ostomy', as the doctor explained that she would have an artificial opening in her organs after the procedure.
"After surgery and recovery, I went back to school.I told everyone what happened. I stood in front of the class and explained my surgery, and even showed them ostomy appliances. No one said anything bad (to my face, at least)."
- See more at: http://www.independent.ie/style/beauty/body/irish-women-should-be-proud-of-who-they-are-ostomy-or-not-says-model-posing-with-colostomy-bag-30411766.html#sthash.9V7PjlvF.dpuf