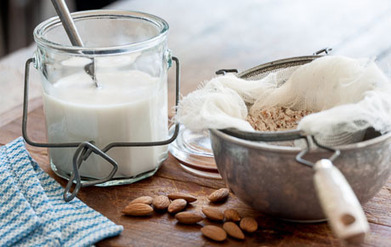 Making your own almondmilk is very easy—just plan ahead to allow time for soaking the nuts. The best dairy-free smoothies on the block are around the corner. Sweeten with a little honey, if you like. (It's easy!
Method:
Put almonds in a bowl and cover by several inches with cold water. Cover and set aside at room temperature to soak overnight or 10 to 12 hours. Drain and rinse almonds.

In a high-speed blender, blend almonds with 3 cups water until thoroughly combined. The mixture will be very frothy. Strain through a cheesecloth, a fine-mesh strainer or a nut-milk bag. Store almondmilk in the refrigerator and use within 3 days. Stir each time before using.

The leftover almond pulp can be used for baking or added to oatmeal or smoothies.