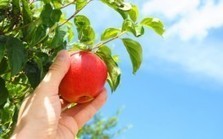 Apples contain numerous beneficial compounds that protect against illness and disease. The fruit is one of many must-have superfoods.
Fiber found within apples is known as pectin. This fiber is able to lower cholesterol levels, stabilize blood sugar, and help ward off diabetes and insulin resistance. Like most high-fiber foods, the pectin in apples also helps fill you up, making you feel full for a longer period and discouraging overeating.
Another powerful compound in apples is the flavonoid quercetin. This antioxidant is found particularly concentrated in apple peels, where it gives the apple its rich color. It's a natural anti-inflammatory and a natural antihistamine that has been found to combat issues like cancer, high blood pressure, stroke, and much more.
Water-soluble polyphenols are often found in apples as well. These are another form of powerful antioxidants with numerous benefits. As reported by Natural News, "Diets high in polyphenols are associated with lower cancer rates, better heart health and enhanced immune function."
Via
Bert Guevara