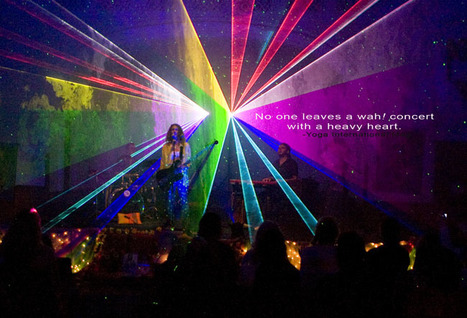 Wah! began her world music journey when she took a college course on raga: melodic modes used for Indian classical chant. This led to her exploration of classical, world, jazz and reggae music as well as the performing arts.
Today her music draws from both current trends and ancient traditions, creating upbeat interpretations of Sanskrit chants (kirtan) infused with pop, reggae and folk melodies. If you've taken a yoga class in the last five years, you have no doubt heard her music and her indisputably unique, sultry voice.
Captivating audiences around the world, Wah! performs more than one hundred dates a year. Her music is sold throughout North America, Europe, Japan and Australia. Her acclaimed solo albums include Jai Jai Jai and Savasana. With "Love Holding Love", Wah! once again reinvents the genre of kirtan chant with her synthesis of Sade-like production and traditional Sanskrit mantras. Her mesmerizing, hypnotic voice bridges the ancient art of kirtan with the contemporary, ecstatic sound of western culture.