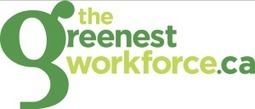 The Canadian Institute of Forestry and the Canadian Forestry Association is proud to unveil this year's theme in conjunction with the Forest Products Association of Canada, who on February 6th, during the PATPAC PaperWeek Forest Products Industry Job Fair in Montreal, with support from the Government of Canada, is launching TheGreenestWorkforce, a resource tool that provides information on the dynamic direction of the industry and career opportunities on offer right across the country.
TheGreenestWorkforce is also giving eight lucky students across Canada a Green Dream Internship that includes a four-month paid summer placement at a leading forest products company, an iPad Mini and a chance to win $5000. Go to TheGreenestWorkforce on February 6th to apply.
Please click here to find out more about the Greenest Work Force.