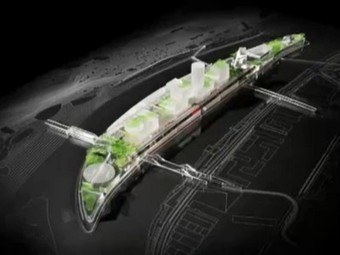 A small island in the Parisian suburbs, once home to Renault car factories, is being converted into a cultural hub with a focus on sustainable development and a quality living environment.
The renewal of the site was first proposed in 1997, five years after Renault closed shop. The island and the adjacent mainland cover 74 hectares in the city of Boulogne-Bilancourt. The idea is to develop the empty industrial space into a thriving urban center, with 500,000m⊃2; of housing (one third of it for low-income residents), 250,000m⊃2; of office space and 250,000m⊃2; for shops and public space.
The project will focus equally on sustainable development and creating a quality living environment. The socially diverse "eco-neighborhood" will focus on public transportation over individual cars (an ironic turn for an old automobile plant) and feature large public spaces, filled with plant life and pedestrian walkways...