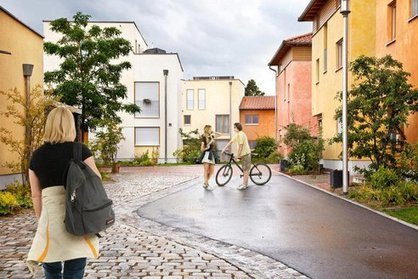 Energy efficient, pedestrian friendly, conveniently located, and full of green innovations, the eco-city Arkadien Winnenden makes a pretty good case for the title.
Economically depressed and the site of a tragic school shooting in 2009, the small German suburb of Winnenden didn't have much appeal despite its low home prices and proximity to Stuttgart. But an award-winning eco-friendly development is turning the town in a new direction.
The architecture firm Atelier Dreiseitl, which also recently transformed Singapore's Bishan Park, calls its new Arkadien Winnenden development "the world's most sustainable neighborhood."
Formerly home to an abandoned factory, the site's contaminated soil was remediated and recycled, as was existing concrete. Each house in the neighborhood has a high energy-efficiency rating and priority was given to non-toxic, locally sourced materials during construction. The competitively priced homes are connected by pedestrian-friendly streets and shared public spaces, though they also have private gardens, terraces, and roof gardens...