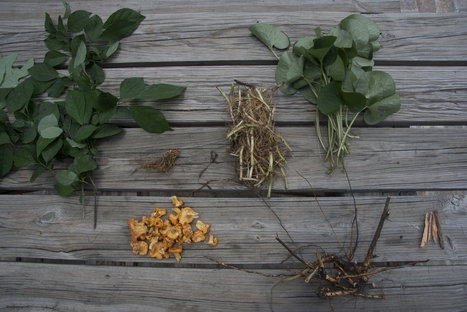 6 November 2013, NPR, Alaistair Bland -- "Craft brewers around the country are making beers with foraged seeds, roots, fruits and fungi.
Last week, Aaron Kleidon went for a walk in the Illinois woods and returned with a bag of lotus seeds. The seeds were bound not for his dinner plate, but for his pint glass.
In a few months, Kleidon will have lotus-flavored beer at the small brewpub Scratch Brewing Company, which he owns with two friends in Ava, Ill. The microbrewery specializes in beers with seeds, leaves, roots, fruits and fungi foraged from a nearby wooded property. The brewers have even made a saison from chanterelle mushrooms.
Why, you may ask, would anyone want to add strange seeds and mushrooms to their beer? The answer is to create a taste of place. It's a concept long recognized by chefs and winemakers, who call it terroir, but is mostly absent from the craft of brewing. ..."
Photo: The brewers at Scratch Brewing Company add wild plants like spicebush, goldenseal, wild ginger, chanterelles and wild rose root to their beer to give it the flavor of the Illinois woods. Aaron Kleidon/Scratch Brewing Company