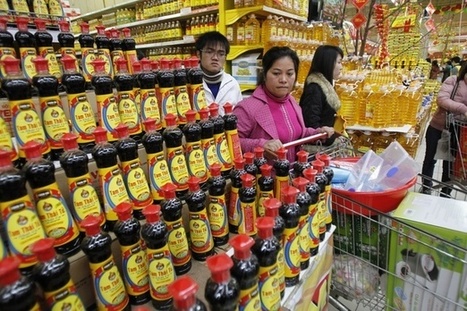 1 November 2013, The Atlantic, Elizabeth Rosen -- "Fish sauce is the essential condiment of Southeast Asian cuisine. Made from fermented anchovies, it gives Vietnamese and Thai dishes their distinctive sweet-sour taste. More than 95% of Vietnamese households use fish sauce daily, tossing it into everything from noodles to dipping sauce.
In previous decades, housewives bought unmarked jars at the local market. Today, they've developed fierce brand loyalty. Three sauces manufactured by Masan Consumer Corp. make up 76% of the domestic market, which this year is forecast to top $400 million. New York-based private equity firm KKR recently increased its stake in Masan to $359 million—the largest investment a private equity firm has ever made in Vietnam.
This year, Phu Quoc fish sauce became the first product from Southeast Asia to receive Protected Designation of Origin certification from the EU Commission. To earn the prestigious label, a food product must be made entirely within a defined geographical area, using skills and ingredients from the region. European PDO products, including Prosciutto di Parma, Balsamic vinegar and Champagne, often enjoy a global reputation...."
Photo: Shoppers walk past shelves of soy sauce, fish sauce, and cooking oil at the Big C supermarket in Hanoi. Credit: Nguyen Huy Kham, Reuters