Scoop.it!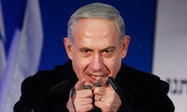 Israeli prime minister's aides accused American president of interfering in Israel's elections
Via
Juan Carlos Hernandez
Jon Smith's insight:
Israeli prime minister Binyamin Netanyahu"s aides have accused Obama of interfering in the Israeli election. This was after a statement of Obama's was published where the president says that Israel "doesn't know what it's best interests are". Apparently Obama also thinks he's a political coward. In my opinion I think it is stupid of Obama to say the quoted statement above. Israel is a very controversial place and is going through a lot of turmoil. It does to a degree need to be left up to Israel itself to work through it's problems. It sounds like Obama just wants to have control. He is also being very hypocritical. Obama doesn't know what the best interests of America are. He thinks he does and will defend his "ideas" to the death regardless of their truth. He will do this so much so that he spews lies and insults people when he should be understanding and negotiatory. I'm not an expert but I'm sure Obama has no basis for his statements. Look at his debates with Romney. He was nasty and rude. I'm pretty sure I saw his pants on fire throughout the debate.