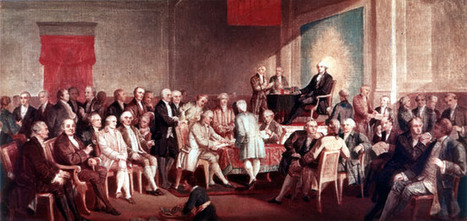 by JOHN CASHON
I hear many arguments proclaiming the 'evils' of big government, and it always seems to come back to the same arguments made by the Federalists and the Anti-federalists during the days of our founders, concerning the differences between a strong central government and a weak central government.
It is taken as gospel that our government should be small, and they say it was always meant to be. From what has been said about the dangers of our large government, it appears that some are advocating for a return of the Articles of Confederation, with its weak central powers, instead of the federal government that we have.
The Second Continental College adopted the Articles of Confederation on November 15th, 1777, and it was in place until 1789, but it was replaced by the Constitution, which advocated for a stronger central government. Why was it replaced?
The Articles of Confederation maintained the principle that the national government would not hold more power than the states, which they saw as sovereign. This satisfied the fears that many of the States had regarding a strong central power, as Britain was before the Declaration of Independence.
In fact, there was no Executive Branch, because they feared giving one man that much power, and it was decided that the Congress would handle all the nation's affairs.
There were many inherent weaknesses with the Articles of Confederation:
The national government did not have the power to tax.Congress did not have the power to force states to obey its laws.Congress could not enforce laws.Each state could issue its own paper money.Any state could put tariffs on trade between other states or countries.There was no system of national courts.Congress could declare war and raise an army, but it could not force the states of give men or money.
After the Revolutionary War, the country went into a deep post-war depression. The States were threatening war with each other, and there were armed uprisings and riots across the land. Things eventually got so bad, that the country was on the verge of a civil war. [MORE]