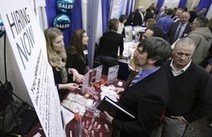 The Dow set a new high on Tuesday, but the larger economy is a different story. What if today's sluggish economic growth turns out to be the new normal? That's the unsettling question asked by some of our most creative economic thinkers.
And the people asking it are not necessarily partisan opponents of the Obama administration. They argue that economic growth rates were disappointing even before the financial collapse and recession of 2007-09.
Take Tyler Cowen, author of the e-book (belatedly published in print) "The Great Stagnation." Economic growth is the product of increases in the labor supply and productivity, he argues uncontroversially.
But the U.S. labor force -- even assuming we get back to full employment -- is not increasing as rapidly as it did when baby boomers and Gen Xers were reaching their working years.
As for productivity, Cowen argues that we simply haven't had the kind of innovations in technology or means of production that we saw in the late 19th and early 20th centuries.
Advances in information technology, he writes, have produced nothing like the productivity gains produced by the development of electricity, the synthesis of ammonia, the invention of the internal combustion engine and the development of new metal production technologies -- gains documented in Vaclav Smil's book "Creating the Twentieth Century: Technical Innovations of 1867-1914 and Their Lasting Impact."
In response to Cowen, Megan McArdle of The Daily Beast writes, "We are not prepared for low growth: culturally, economically or psychologically."
In a fast-growth economy, it makes financial sense for young people to borrow and for government to transfer money from current earners to the elderly.
That's why we had government policies subsidizing people borrowing to buy homes and pay for college.
Unfortunately, those policies produced windfall gains for unscrupulous mortgage originators and university administrators. And they produced the housing bubble that burst in 2007 and the higher education bubble that is in the process of bursting now.
Politicians have been searching for policies to restore the status quo ante bubble.

Click headline to read more--
Via
Chuck Sherwood, Senior Associate, TeleDimensions, Inc