Scoop.it!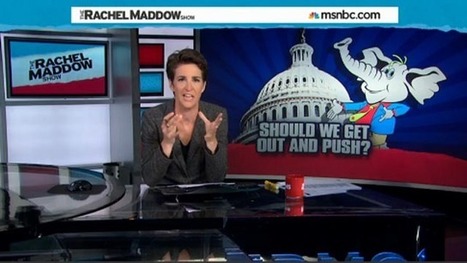 Rachel Maddow breaks it down: 'This Congress is -- quantitatively -- the WORST Congress ever!' Thanks, GOP.
Monica S Mcfeeters's insight:
All the topics covered in this video are so important. The VA issue is one that hits very close to home. I was so sadden when the Head of the VA stepped down as though all this was his fault. In fact that is twice he has taken a hit for other people's stupid choices. HE was on of the four very respected generals fired by Rumsfeld because they told him before going into Iraq that 30,000 troops could not do it right and it would take at least 145,000. It was not the General's fault this time either. The VA has been underfunded and auctioned off to the lowest bidder starting with Bush Senior then going for another huge blow under Clinton who delivered even more to the contracting work of HMOs and even more outfits that hired contract doctors and medical professionals that basically blew through the military system not even with the status of civil servants.
This administration actually was building this VA medical system back up. The problem is their big hearts also thought Agent Orange victims from the Vietnam war should finally be treated (those that haven't already died) and so should the mental health cases of the last decades. This over-loaded the lean medical care system Bush Senior and Clinton put in place. But leaving them with nothing also was costing lives. Agent Orange victims and their offspring were becoming sicker and suicides for soldiers after over a decade of war had become daily events. Waiting even longer it treat them (ready or not) wasn't an option.
I fear this congress is staging all this to further action off the VA system, which while expensive, was one of the greatest medical care systems in our nation's history. We once trained very smart, but often-poor students in the best medical professional schools they could get into to. They paid us back with 5 years or even sometimes a lifetime of excellent service for modest salaries that including nice housing and left them with no school debt in return. It was a good trade for many on both sides of the system. I think we should do that again for both military and Medicare/Medicaid professionals and build for them the best facilities and research opportunities as we once did with the VA medical system. Provide lovely housing and perks, pay a decent, but not millionaire salary and they pay society back with committed years of work. If they trade us a lifetime of work they then earn good lifetime benefits as well. For-profit outfits have a first obligation to make the shareholders rich not make sick people well. The old VA system put all our medical dollars into the medical care program and not into pockets of share holders.