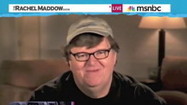 By Wendell Potter
Health insurers invested a lot of what you paid them in premiums in an effort to get more of their friends elected to Congress. As the Center for Public Integrity reported last month, the political action committees of the 11 largest health insurers and their biggest trade group—America's Health Insurance Plans (AHIP)—gave $10.2 million to federal politicians between January 2007 and August 2012. Most of that money went to Republicans who pledged to repeal or gut the Affordable Care Act.
.....What she really meant is that insurers were committed to the parts of the law they like—such as one that requires us to buy coverage from them—but not so much to the ones that might negatively impact their bottom lines. Like those that will end the abusive practices that have enabled them to pad those bottom lines.
When Ignagni and insurance company executives speak, it is important to parse their words to understand what they are really saying. That's just as true now as it was in 2010.
Via
Charles Lang