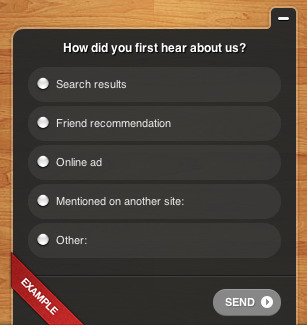 With KissInsights you can start immediately getting feedback, suggestions and ideas from your readers and fans, right on the web pages you want.
With a simple JavaScript code change you can install KissInsights onto your blog or web site and be ready to work with it.
The service provides many ready-made survey templates with typical feedback questions sets that can be immeditaely deployed.
Questions types include: Single answer with radio buttons, multiple answer with checkboxes, text answer, and promotor score, a scale from 1-10 ranging from 'least likely' to 'most likely'.
You can also customize the survey bottom pop-up to be shown only to specific types of visitors: for example only to returning visitors, only to signed in users or only to those that come from a search.
The free version allows for unlimited surveys and up to 30 responses, while the paid plans provide capacity for unlimited replies while adding the ability to add custom questions and to personalize the thank you message (with the ability to re-direct to a specific URL). Paid plans start at $29/month.
Pricing plans: https://www.kissinsights.com/plans
Getting Started instructions: http://help.kissinsights.com/getting-started
Find out more: http://kissinsights.com/
(Reviewed by Robin Good)
Via
Robin Good