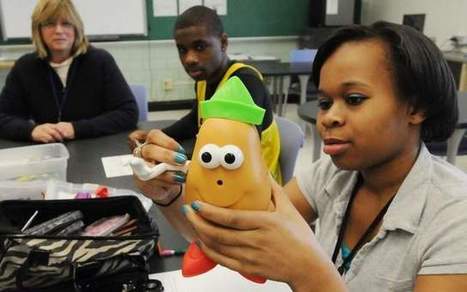 SEAFORD -- At Seaford Senior High School, a 10th-grade course in biology brings together literature and the sciences.
__________
Among those who find their greatest depths in superficial glancing at information, it is unfortunate that this story is illustrated with a high school student "playing with a Mr. Potato Head."
Too many too easy jumping to ignorant unfounded conclusion opportunites here.
The article, though also a bit shallow on depth, identifies a couple of my most cherished beliefs about school reform and particularly the role literature plays in a well-rounded education.
First, the real world is cross-curricular, and becoming moreso everyday. The workplace is becoming a collaborative setting where art directors and engineers, work with marketing and sales persons, who must find effective and cost-effective workflow and output strategies within realistic spreadsheet-controlled resources. The collaborative teams may work "together thousands of miles apart and multiple cultures away" from each other's default assumptions about life, beliefs, traditions, and product demands and their impact on the unique as well as on the shared values of a diverse world.
There are increasingly fewer silo-centric opportunities to exist without having a need to see the complex relationships between what one knows and contributes and the responsibilities for the impact of what one's does to his or her local or international neighbors.
The not-so-rhetorical question is what important value does literature bring to the study of science that "literature-less" science courses do not adequately address? Or, in reverse, what important value does real science (or real history, or real mathematics, or real geography for that matter) bring to the study of literature that "science-less" (or history-less, or mathematics-less, or geography-less) literature courses do not adequately address?
What cross-curricular study brings is a clarifying sense of the interconnectedness, and therefore the inter-responsibilities, between all of these areas of knowing. To have extensive expertise in one area gained at the expense of having an insufficient understanding in other areas is quite dangerous in our interconnected world. It has played a major role in decisions leading to economic collapse. It has played a major role in decision making regarding why we decide to go to war and why we decide to vote for one politician's promise-set over another's.
If we do not encourage a deeper understanding of how all the pieces of a well-rounded education fit together into a truly better understanding of our contributions and responsibiities to the world we live in, we are quite likely to make poor, maybe even fatal decisions not only in our areas of significantly unexplored ignorance but also in our areas of extensive expertise.
~ http://www.GoogleLitTrips.com ~