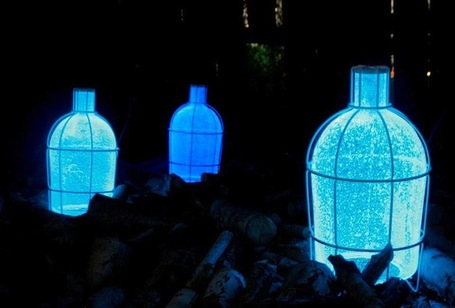 What an interesting way to use Murano glass. In April 2011 Gionata Gatto, an Italian designer living in Eindhoven and Mike Thomson, a graduate from the Design Academy in 2009, have presented Trap Light.
They proposed a radical new approach to lighting design, using photoluminescent pigments to capture escaping light embedded in Murano glass. In this way Trap Light converts waste energy back into visible light. It becomes both shade and a light source, emitting, absorbing, and re-emitting light. A 30 minute 'charge' of recycled light from a traditional incandescent or LED light bulb allows up to 8 hours of ambient lighting.
Both Gatto and Thomson are interested in the topic of energy consumption and with Trap Light they have hit their target by exploring old and new technologies in order to generate fresh relationships between function and behaviour, questioning common codes of conduct.
Gatto's works have been exhibited in galleries and events worldwide, including Spazio Rossana Orlandi, Maison & Objet, Sotheby's, Triennale di Milano and the Tijdelijk Museum and Thomson's at
the Milano Salone del Mobile, St Etienne Biennale Internationale Design 2010, and most recently at Green Machines: Kick-Start The Revolution at the Science Gallery, Dublin.
What a great connection between the "old" traditional Murano glass techniques - the designers were able to embed photoluminescent pigments into the glass body of the lamp - and the "new" technologies such as LED, which in itself is already energy saving when compared to the "old" incandescent light world.
Once again Murano glass has its spot in the design world!
Via
Aida Guemati