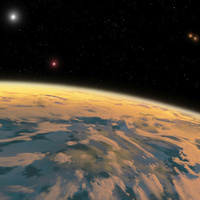 Two volunteer astronomers have confirmed the existence of a Neptune-like planet that has four suns, making it the first quadruple star system ever discovered.
A system like this has statistically a very small chance to exist in a stable way: the planet should be torn apart by conflicting gravitationnal forces.
But the discovery was confirmed by professional astronomers: "Looking at the data, the duo [of amateur astronomeurs Kian Jek of San Francisco and Robert Gagliano from Cottonwood, Arizona] noticed faint dips in light caused by the planet passing in front of its parent stars. Following their immediate observation and announcement, a team of professional astronomers took over and confirmed the presence of a quadruple system using telescopes on Mauna Kea, Hawaii."