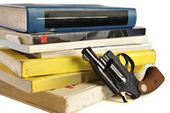 Common Core Lesson: Proportional Relationships

Ms. Melissa Hurt, a 7th grade teacher at Houston Middle School in Shelby County, Tennessee, relates her lesson, to the technology in her students' lives and aligns it to the Common Core Math Standards.

In her lesson Ms. Hurt presents her students with a math task in which they use proportional relationships to determine percentage:

"Imagine that you just invented Draw Something and your goal is to sell it to Zynga, the biggest purchaser of mobile apps in the world. In order for Zynga to consider your new app for purchase, it must have a download rate of 5% of all mobile users.

"Out of the 288 seventh graders at your school, 12 have downloaded the app you created. So based on the sample, predict how many of the school's 864 students will download the app and then you're going to determine whether or not your team is ready to approach Zynga with the sales pitch for your app. Justify all of your answers with written out explanations, equations, tables, and/or graphs."

Learn more about Ms. Hurt's lesson and this week's strategy when you click below to watch the full video segment (PD 360 login name and password required). If you do not have a login, you can follow the same link to sign up.




Via
Lynnette Van Dyke