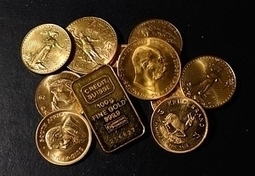 Intense political risk in Europe, on the back of the French and Greek elections, along with a substantial slowing of the economic recovery in the U.S., evidenced by recent jobs weakness, have once again created a favorable environment for gold.
by Agustino Fontevecchia:
"The stars could be aligning for gold to return to its decade-long bull run, recently punctuated by sideways trading over the last couple of months. The yellow metal is getting murdered on Tuesday, down more than $40 in New York, but an intense resurgence of political risk in Europe and a couple of months of weak jobs numbers in the U.S. put stimulus definitely back on the table: safe-haven flows, currency debasement, all of these are gold-positive.
"Add anti-austerity gaining ground in Europe and the abolishing of a gold excise duty in India (the world's largest gold importer), and you have an even more favorable environment for the yellow metal...."