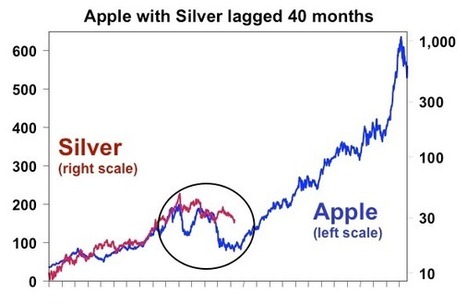 Interesting analysis using Apple stock:
With continued volatility in major markets, as well as gold and silver, today King World News interviewed James Turk out of Europe. Turk included an extremely interesting chart for this interview. He discussed gold, silver, the mining shares and importantly, what to expect this summer. Here is what Turk had to say about the recent action in gold and silver: "The odds are improving that both gold and silver made an important low last week, Eric. I particularly like two things that happened last Thursday. First, gold jumped more than 1%, which is the limit regularly being imposed by the traders using mathematical algorithms in their attempt to cap the gold price..."
"...What I have done is overlaid the silver price on Apple's share price, but lagged silver by 40 months. The purpose is to show the big correction in Apple back in 2007-2009 and compare it to silver's present correction, which is the area I have circled. Who, back then, would have thought shares of Apple would climb from $80 to over $600? When the strength of a major bull market is viewed this way, my long-term target of $400 for silver looks quite reasonable. More importantly, I think the underlying fundamentals also make that target reasonable...."