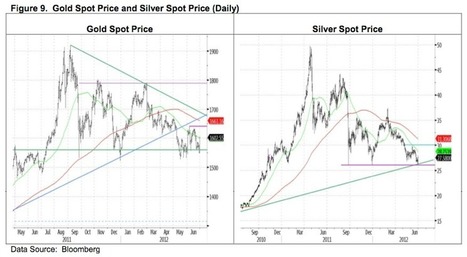 From King World News:
By Louise Yamada Technical Research Advisors, LLC ("LYA")
July 5 (King World News) - Gold spot price (GOLDS-1,597.40) is little changed over the month, unable to hold definitively above 1,600, yet still failing to break below critical support at 1,539 (see Figure 9). A more neutral range may continue for a time as the weekly momentum remains on a Sell, though the angle of decline has moderated. Sideways action could establish a shelf of repair for a renewed attempt to rise at a later date. Parameters remain the same as last month, awaiting either a break to a new low below 1,539, or a move up through 1,641 (price resistance) and then through 1,700 (downtrend line) to suggest an advance may sustain.