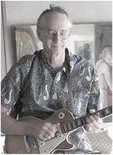 Charles Hugh Smith writes a piece worth reading. Here's the opening, be sure to click through for the rest:
"Every participant in the manipulated, rigged stock market is now a muppet.
"Just as President Richard Nixon signaled his embrace of endless fiscal stimulus and bottomless deficits by declaring "We are all Keynesians now," it is now apparent that we are all muppets now, willing participants in a fraudulent, manipulated market in the hopes that we will skim the same outsized gains reaped by the manipulators. ..."