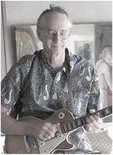 from Charles Hugh Smith:
"The next time the Fed unleashes quantitative easing, maybe we'll finally wake up to the fact the Fed is not just powerless, it is actively destructive.
"The Fed is promising once again to pound nails with the only tools in its toolbox, a saw and a chisel. The "nails" the Fed is trying to pound down are unemployment and deflation. Needless to say, whacking these big nails with a handsaw and a chisel is completely useless: they can't get the job done.
"The Fed claims all sorts of supernatural powers to sink nails at will--"unconventional monetary policy," quantitative easing, money dropped from helicopters and so on. But all it really has are two tools which have no positive effect on unemployment or the real economy. ..."