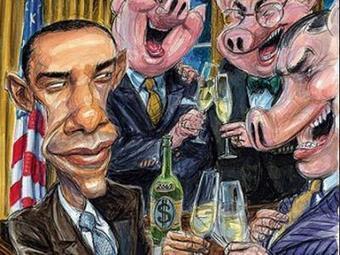 The "fiscal cliff" is a myth.
Instead, what we are facing is a descent into lawlessness
In many situations, austerity programs are imposed on countries that were previouslyunder dictatorial regimes, leading to criticism that populations are forced to repay the debts of their oppressors.
Indeed, the IMF has already performed a complete audit of the whole US financial system, something which they have only previously done to broke third world nations.
Economist Marc Faber calls the U.S. a "failed state". Indeed, we no longer have a free market economy … we have fascism, communist style socialism, kleptocracy, oligarchy orbanana republic style corruption.
Let's look at some specific examples of our descent into lawlessness.
Lawless Looting and Redistribution of Wealth
The central banks' central bank – the Bank for International Settlements- warned in 2008that bailouts of the big banks would create sovereign debt crises … which could bankrupt nations.
That is exactly what has happened.
The big banks went bust, and so did the debtors. But the government chose to save the big banks instead of the little guy, thus allowing the banks to continue to try to wring every penny of debt out of debtors. ...