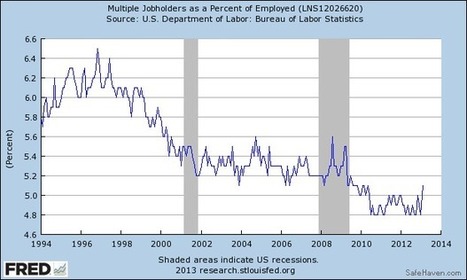 This article originally appeared on MarketWatch under the title Jobs numbers are far worse than they look.
I selected my title from a humorous comment on MarketWatch by reader "Homer Price" who writes"Mike, What are you doing ? Trying to spoil the GREAT EMPLOYMENT news. Just wait until next year when the Unaffordable Care Act kicks in. THE BEST IS YET TO COME ............................. "
There are other interesting comments as well. Inquiring minds may wish to take a look. Now for my article ...
Economists were surprised by the massive "beat" in today's reported job numbers. The unemployment rate dropped .2 to 7.7% and the economy allegedly added 236,000 jobs.
Is that what really happened? No not really.
According to the household survey (on which the unemployment rate is based) the economy added a healthy 170,000 jobs. However, a whopping 446,000 of those jobs were part-time jobs. Simply put, the economy shed 276,000 full-time jobs.
The BLS labeled those 446,000 part-time jobs as "voluntary". I am not so sure. ...