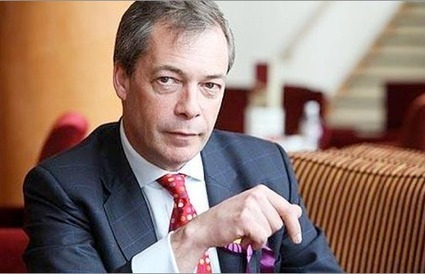 With world markets still convulsing and gold and silver reasserting themselves once again, today King World News interviewed former LBMA commodities broker and trader and current MEP Nigel Farage to get his take on the situation. Farage had some powerful comments regarding the direction of gold, but when KWN asked about the chaos in Europe, Farage stated, "The eurozone is in deep, deep crisis as everybody knows. Now we have a situation where peripheral countries, particularly those on the Mediterranean coast, find themselves incapable of actually raising finance. The markets demand huge interest rate from them because their is a risk of defaulting."
Nigel Farage continues:
"So we have a series of bailouts where money is taken, predominantly from the wealthier northern European countries to prop-up government debts to the banks. Now this has a European context, but there is also a global context to this because the IMF, which of course is based in Washington, has now become part of this problem.
"The IMF is now committing vast sums of money to propping up these eurozone states. I tell you it doesn't matter how much money they throw at this problem, there is a fundamental imbalance between the members of the eurozone and the whole thing is going to go bust anyway.
"It's all part of the great global shift, of course, that is going on. There is a massive West to East shift that's been happening anyway, but what we in the West have been doing is we've been aiding that transfer (of wealth) by just the most stupid, ridiculous governmental monetary policies and central bank policies...."
[My only question is: Do Golden Spikes kill Keynsian Vampires? ;-) ]