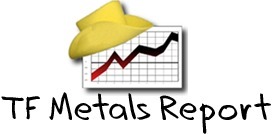 "HAHAHAHAHA! That's a good one! As if having the Fed overtly printing money would solve all the worlds ills.
"Once again the media incorrectly spins today's FOMC minutes as a postponement or even a (gasp!) cancelation of further quantitative easing. Buy the dollar! Your evil Sith masters are such responsible stewards of the economy that they are prepared stop the presses and enforce credit discipline upon a spoiled, bloated populace.
"What a joke. Up goes the dollar and down goes nearly everything else. Please, I hope you are able to see through the fog of this nonsense. Again I ask you, from where is this year's $1.5T U.S. budget deficit getting its funding? From where did the U.S. government get their funding last year? From where will they get it next year?"
[Fabulous post from TF Metals. Click over to see the charts and read the full post and analysis of gold and silver]