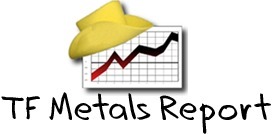 TF Metals - "I have a somewhat different point of view. What I see in this week's CoT are markets that are very close to a bottom. Why do I say that?
1) Spec longs in both gold and silver were bailing out at a very quick pace. This is bullish for two reasons:
a) It's a contrarian indicator, first and foremost. If specs are a sort of "dumb money", do the opposite.
b) Spec money will, eventually, flow back in. You want to be ahead of it.
2) Commercial longs are also selling but commercial shorts are covering.
a) More long liquidation leads to a point where everyone who is going to sell will have sold.
b) If The Cartel is the "smart money", follow them, They are covering shorts which means they are buying."