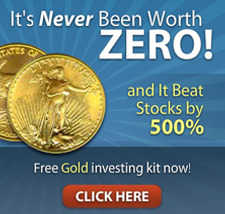 As reports begin to stream in, it appears the Christmas retail season is off to a fast start. Some suggest this is a positive sign of things to come as, for many retailers, a strong holiday selling season could make the difference between earning a profit for the year or not.
However, caution is in order! A strong start to the season could also be a signal that the beleaguered consumer is going to buy at a bargain or not buy at all. One analyst suggested we could see a strong start, as consumers rush to take advantage of big discounts, followed by a long lull until just a few days before Christmas. That's when the credit cards come out in an effort to delay the pay date as long as possible.
With a real unemployment/underemployment number estimated to be closer to 16% than the reported 9%, one really has to question where the money could come from to bolster a strong retail season. More than one analyst has attributed recent gold sales to an effort to offset losses in other investments. We are near year-end, a time when many stock and investment transactions are tax motivated. I may suggest another reason for selling gold at this time of year.
[Click over to read the rest. It's worth it]