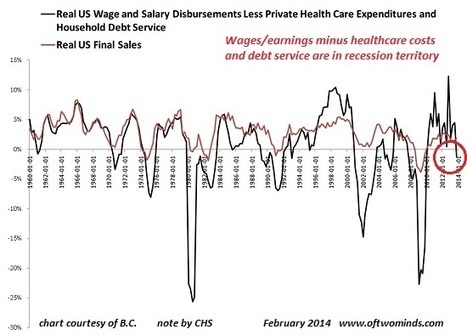 Just as the Federal Reserve cannot directly force you to stick the needle of monetary heroin (debt) into your arm, it also can't force employers to pay employees more.

The official policy of the Central Bank (Federal Reserve)/government is: inflation is necessary for "growth," i.e. economic expansion. The unstated reason for this official support of inflation is that it's easier for borrowers to service their debts as their income inflates.

To take an extreme example: let's say a homeowner has a mortgage of $100,000, an annual wage of $40,000 and annual mortgage payments of $10,000. At 100% annual inflation in both prices and wages, the home mortgage remains fixed at $100,000, the payment remains fixed at $10,000 but his earnings double to $80,000.

Where the mortgage payment initially took 25% of his earnings, now it ...