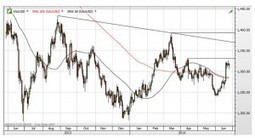 Was last Thursday's $50 surge in frenzied trading just a blip?
Frik Els writes:
The gold price jumped around on Wednesday only to settle in familiar territory.
On the Comex division of the New York Mercantile Exchange, gold futures for August delivery in late afternoon trade exchanged hands for $1,319.50 an ounce, down $1.80 from its settlement level in middling volumes.
Earlier in the day gold touched a low of $1,305.40, only recovering after a drop in the dollar following asurprisingly large down adjustment in the first quarter US GDP.
Last Thursday's nearly $50 an ounce surge in frenzied trading now appears to have been a blip as gold's momentum turns sideways. ...