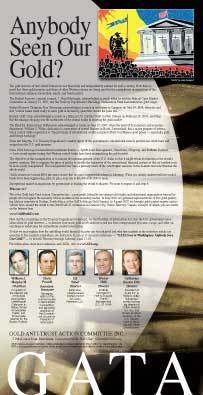 Dear Friend of GATA and Gold:
GATA frequently writes to about two dozen journalists at mainstream financial news organizations about matters indicating manipulation of the monetary metals markets, alerting them to all new documentation and evidence we've discovered, so that none of those organizations can claim not to have known what was going on, only to have ignored it.
Of course seldom do we receive even an acknowledgment; the issue is simply a prohibited subject for mainstream financial journalism in the West. But GATA may be first to know when one of those journalists is on vacation or otherwise away from work for a prolonged time, as he'll set his e-mail account to "auto-respond" and we'll get an indirect acknowledgment that way. ...