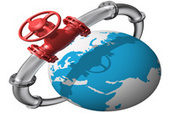 Marin Katusa, Chief Energy Investment Strategist for Casey Research writes:For more than 100 years, the US government has been receiving a royalty and tax revenue paid on the amount of oil or natural gas produced on American soil—a fee that is paid in US dollars. Bill 138 has changed this forever.
Instead of Alaska receiving its dues in US dollars, the state legislature has decreed through Bill 138 that the state will be paid "in kind." In other words, the state will be getting its share of royalty and tax revenue in natural gas instead of US dollars.
For the record, this is the first time ever that a US state has entered into a partnership like this ...