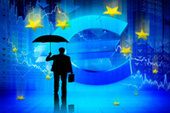 If you favor sound money, you're a sadomonetarist, according to New York Times columnist Paul Krugman. The Nobel Prize winner says he doesn't use the term "just to be colorful." No, he uses the term "advisedly," and defines it as "an attitude, common among monetary officials and commentators, that involves a visceral dislike for low interest rates and easy money, even when unemployment is high and inflation is low."
Krugman writes as if one favors low interest rates versus high ones in the same way a person supports high taxes versus low, or more government versus less. Interest rates are now government policy to be argued about and decided by government bureaucrats serving at the pleasure of politicians, instead of a reflection of the demand for funds versus the supply.
At what interest rate does a person's support render him or her the Marquis de Sade?
The columnist says he's happy that sadomonetarists have little influence at the Federal Reserve, "but they do constantly harass the Fed, demanding that it stop its efforts to boost employment."
Krugman still buys into the dubious notion that low interest rates lead to more jobs, not to let the facts get in the way of his Keynesian theory. ...